Prosperity for US
Well, I read about Prosper.com a few months ago in Readers Digest magazine, but forgot about it until this past week. It's a pretty cool peer-to-peer loan system for U.S. residents founded by the guy who started ELoan.com, and I've opened an account (it's free) and started fiddling with it. (For details on how it works, visit their web site.)

This prompted me to look at our debts, and I was surprised to find that we have 3 credit card accounts with small balances that have exorbitant interest rates. So, I studied up how to apply for a loan on Prosper, joined a group, got my info verified, and posted an application for a $5k loan to pay off those 3 credit cards. I put in the maximum interest rate allowed by Virginia, 11%, and it got fully funded within minutes. However, I'm letting the listing stay open for the maximum time of 10 days, and since it was fully funded at 11%, additional lenders (individual investors) have been bidding to get a piece of my loan, thereby bidding down the interest rate, which is now below 10%. Way cool! Check it out: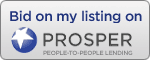 You can borrow, you can earn money by lending, or you can earn money by managing a group.
Prosperity for the rest of the World
One guy borrowing money via Prosper is using the money to reinvest, partly in microloans at kiva.org. I never heard of kiva.org, so of course I had to check it out.

Kiva (from the Swahilli word for "agreement") allows anyone to make microloans to the working poor in some of the poorest areas of the world. The staff at Kiva vets each borrower, and though the amounts are generally small by U.S. standards, they can have profound impacts on the people who receive these loans.
Some of these folks may never have another opportunity like this to improve their and their families lives, and you can help. You can make a small loan to someone on the other side of the planet and improve their lives forever.